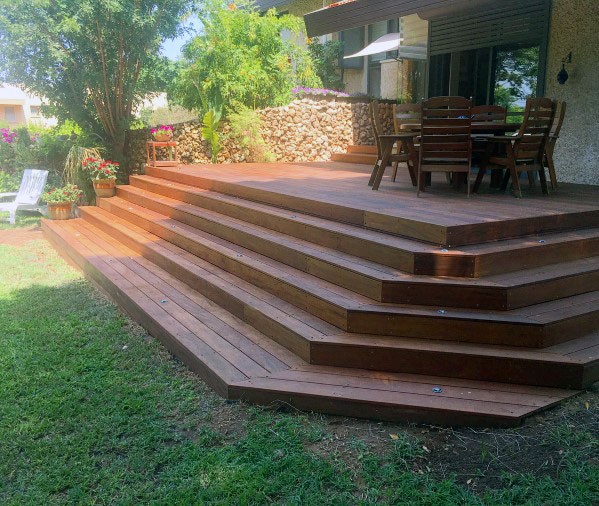 The internet is full of fun ideas for just about everything in 2020! From kitchen cabinets to specialty laundry rooms and mudroom, you can find great ideas for decor, storage, paint colors, materials, and more. Making your home personalized and unique is easier now more than ever, but the fun doesn't stop there. Outdoor life has become extremely popular. Decks, patios, pergolas, outdoor stairs, and raised gardens are all ways to change and update your backyard.
Backyard Stairs
Rather than just choosing the standard wood or concrete stairs, many people are looking for something different. It is essential when deciding how to build your outdoor stairs that you not only focus on architectural appeal, but safety as well. There is a plethora of materials, colors, and styles for outdoor stairs. Here are some ideas to get you started:
Giant, round stones create a breathtaking waterfall near outdoor stairs. The magic continues as you turn on the waterfall, and the water rushes down the sides of the rocks.
Flagstone steps with built-in flower gardens lend a charming look to stairs.
Fairy tale rocks lend a mystical quality to the river area.
Flanked with metal, wire, and wood, stairs erect an industrial atmosphere for a backyard patio area.
Diagonal lines produce a geometric style to a wood deck. Casual but texturally interesting, the deck is perfect for relaxing and unwinding after a long day.
A sloping staircase made with wood edges and coquina steps makes for an appealing entrance to this backyard. It is the perfect entrance to the downstairs pool area.
Stair Safety
Whether you choose fairy tale rocks or waterfall stones, stair safety is a vital part of installing your stairs. Protection is achieved by installing waterproof products, anti-slip treads, or floor paint that contains grit.
Waterproofing products are a more permanent stair safety material. This is typically a multi-layer fiberglass coating that, when applied, will produce a slip-free surface.
Anti-slip treads are strips of rubber or composite materials. They are attached with adhesive, screws, or nails.
Floor paint with grit can also offer a good alternative for outdoor stair safety.
The best benefit of being a homeowner is the ability to let your imagination run wild. In addition, you get to put part of yourself into the decor and style of your home. Regardless of the decisions you make, choose a professional company with top quality services and material, licensed, insured, bonded, and backed with a guarantee and a warranty.
Sources
https://www.pinterest.com/rnagibson/deck-stairs/
https://ladi6.com/outdoor-stair-treads/
https://cottagelife.com/design-diy/less-slippery-wooden-steps